"Pursuing unity in diversity"
[divider] [/divider]
Since July 2019, EOSC-PILLAR brings together representatives of national initiatives to coordinate data infrastructures and services in Italy, France, Germany, Austria and Belgium. The project aims to propose the initiatives for national coordination of data services infrastructures recently launched in many member states, as one of the founding pillars for the long-term development and sustainability of EOSC. EOSC-Pillar will start with a consortium of 18 partners from this group of neighboring countries active in open science, in order to define a model to harmonize and federate these initiatives.
[divider] [/divider]
The technical management of the project is provided by CINES, whose areas of expertise include both data management and data infrastructure aspects.
More informations: https://www.eosc-pillar.eu/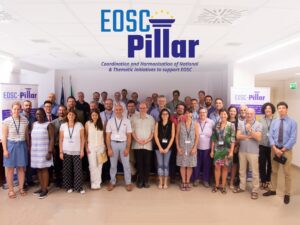 Kick-Off Meeting, Rome, 03-05.07.2019