eTDR is a service provided to ensure that digital scientific information remains findable, accessible, interoperable and reusable over time. It includes capacity/resource planning and application of long-term preservation techniques/technologies. It also combines policies, processes and actions to ensure access to "born-digital" and reformatted data, regardless of the challenges of technological changes or failures (metadata, file format, media). The eTDR data repository is certified as Trusted Digital Repository.
The instance of eTDR deployed at CINES is a digital preservation infrastructure that relies on mature, "ready-to-use" EUDAT services, which have been in production for several years, and provide data transferring functionalities. These services expose well-documented APIs, which were interfaced for dataset transferring and indexing purposes. These include:
A B2SAFE node to transfer datasets (digital documents, images, videos, etc.) ;
A B2HANDLE PID allocation ;
Data quality function modules such as integrity and antivirus control, file format validation and metadata validation;
Post-processing modules (e.g OCR analysis, etc.) performed on CINES's High Performance Computing (HPC) facilities ;
Indexation and access interface. The post-processing results are indexed in full text in a search engine, allowing access to data and metadata with multi-criteria search capabilities, as well as harvesting in B2FIND ;
Long-term preservation performed on the CINES TDR, which has been awarded the Data Seal of Approval (the predecessor of the Core Trust Seal certification) in 2010 and 2014, and complies with the FAIR principles.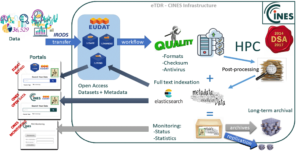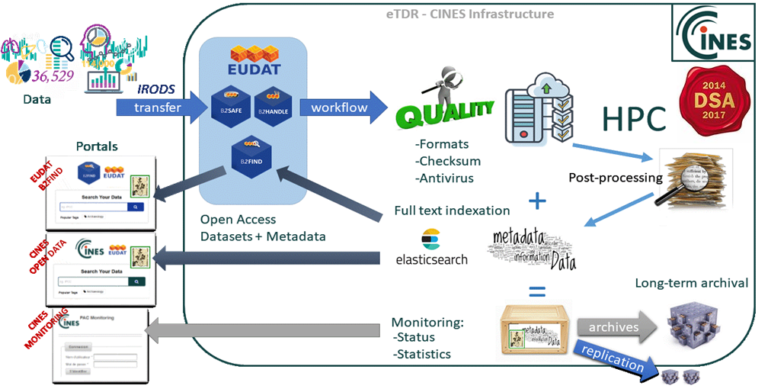 In order to get access to the eTDR services provided by CINES, please send an email to svp@cines.fr
This work is co-funded by the EOSC-hub project (Horizon 2020) under Grant number 777536.