From 2011EUDAT project is an European initiative at the request of scientific communities. It is financed by the 7th Plan of the European Community.
The goal of this project is to provide future researchers with needs both in the matter of access and preservation of scientific data.
To achieve this goal, all partners will identify the needs and requirements of the research community to develop, deploy and secure a common and persistent infrastructure of data, "Collaborative Data Infrastructure" (CDI).
With the increasing number of infrastructure and their distribution, EUDAT brings common services for the management and development of research data to the whole of communities.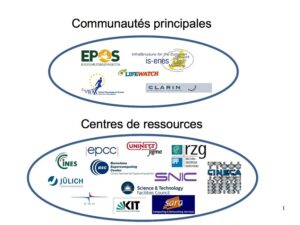 EUDAT currently includes 25 partners. It works particularly with five scientific communities (CLARIN, EPOS, ENES, Life Watch HPV) and 12 large data centers, including CINES.
The first five communities and the twelve resource centers involved in EUDAT
The project EUDAT (lasting three years) began in 2011 and plans to provide the common following services:
A secure data replication (via iRODS with perennial identifiers based on Handle / EPIC system);
A data transfer process from EUDAT ressource providers to processing centers;
A archive service for small files;
A metadata catalog;
An infrastructure for authentication and authorization (IAA).
All these services can be accessed through the EUDAT portal.
the EUDAT philosophy is working the different actors together and to involve end users in the development of services.
CINES is involved in the European project as a resource center.
Since 2004, the skills and expertise of CINES team have been admitted on perenial archiving at national level. CINES is considered as a national specialist in projects about long-term preservation of all digital documents.
As such, CINES became the only French node of European data infrastructure developed in the EUDAT project.
His experience in sustainable data archiving is an undeniable asset in the development of storage systems and exchange of large amounts of data for distributed information systems in the context of the European project.
CINES contributes to working groups (WP2, WP3 and WP5 to WP7), with particular emphasis on techniques for long-term preservation and rules to ensure data quality and compliance with conservation standards.

It offers a storage platform with a space of 60 TB of disk space and 500 TB of magnetic media
The architecture is shown in Figure 2 below: