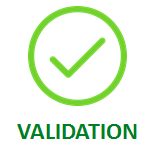 Any files submitted in the PAC platform is subject to several controls, including validation of the declared format.
This is to ensure that the file is valid and well-formed compared to the specification of the format.
A file is considered "well-formed" if it meets the requirements purely syntactic.

A file is considered "valid" if it meets the requirements of semantic format.
Note: format must be well-formed to make the control of its validity is possible.
To perform this validation, the PAC system is interfaced with a monitoring module developed largely in-house using the Java language. It uses the tools Jhove, ImageMagick, DROID, MPlayer (Mencoder) and MediaInfo to identify, validate and characterize the format of transferred files.
Cliquez sur les images ci-dessous pour accéder aux logiciels