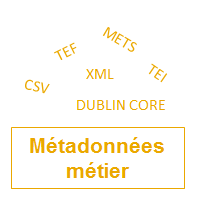 "Business metadata" specific to the archived document
As we know that the set of metadata we propose is very generic and that every project has its specificity, we encourage data depositors to add to each archived document a file of "business metadata" if it exists.
What are "business metadata"?
Each field of activity has its own vocabulary and gives importance to particular details. In the context of data preservation, these specificities will be rendered into a custom or standardized set of metadata which will allow a description of the documents closest to the needs of the user. This is what CINES called "business metadata".
Given that the more accurate description, and so the more valued, of the documents is in these metadata, it is crucial to archive them just as the documents themselves.
In concrete terms, what happens?
Depositors export for each document the metadata from their databases to form an XML file which is then added to the document going to be archived.

Warning: to be archived, this XML file must refer to an XSD schema or to a documented DTD, which shows the structure of the XML file and give a definition for each tag, with examples if possible.