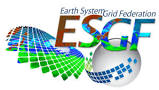 (being translated)
ESGF is an international infrastructure for distribution and analysis of climatologie data.
ESGF is based on a distributed and federated architecture . The infrastructure consists of sites called "nodes" or service nodes. These "nodes" are geographically distributed worldwide but can communicate through protocols and interfaces standardized.
Users of ESGF community can search and access data as if it was a single and overall data storage.
Partnerships

 ESGF FRANCE
ESGF France is a common framework for the community of administrators of ESGF nodes in France. 
CINES

 

joined

 

this group

 

in 2013

 

alongside the

 

IPSL

, 

CNRM

, CEA and

 

IDRIS

.
 The community is part of the Big Data thematic in Convergence ANR project and also in the working group dedicated to the data of the European project IS-ENES2.
La plateforme de distribution de données en climatologie
Prodiguer, plateforme de distribution de données CMIP (Coupled Model Intercomparison Project), est mise en place à l'IPSL. Elle a pour objectif de garantir la diffusion des résultats desprojections climatiques réalisées par les équipes françaises au sein des projets internationaux et plus largement auprès des différents utilisateurs du domaine de la recherche sur le changement climatique. Cette activité comprend la mise à disposition des simulations de référence, et le traitement des données et métadonnées en suivant les normes internationales. La mise en place d'un service de distribution doit servir de support aux différents projets d'analyse des simulations par la communauté scientifique, à la réalisation des simulations régionales à partir des résultats des projections à grande échelle, et à la diffusion des résultats pour les études d'impact.
Prodiguer s'insère ainsi dans les réseaux de mise à disposition des données des simulations aux niveaux international et prépare l'émergence de services de mise à disposition des données pour les futurs «services climatiques». Les simulations concernées, les formats et protocoles utilisés suivent les recommandations misent en place pour la diffusion des simulations CMIP5 dont les résultats alimenteront le 5ème rapport du GIEC.