Occigenincludes 34 racks :
27 racks for HPC (cf. description architecture)
7 racks for connexions nodes, services nodes et disks nodes.
The cluster is composed of three "parts" :
the first part which has 50544 cores distributed over 2106 nodes
the second part which has35280 cores distributed over 1260 nodes
the third part which has 224 cores in one node
Part 1
Part 2
Vizualisation
Large
Ref. Manufacturer
Bull B720
Bull B720
Bull R421-E4
Bull Sequana X800
Processor name
Haswell
Broadwell
Broadwell
Skylake
Ref. processor
E5-2690V3@2.6 GHz
E5-2690 V4@2.6GHz
E5-2690 V4@2.6GHz
Xéon Platinum 8176@2.1GHz
Nb of nodes
2106
1260
4
1
Processors by node
2
2
2
8
Freq. of processors
2.6 GHz
2.6 GHz
2.6 GHz
2.1 GHz
Cores by processor
12
14
14
28
Cache size L1

12 X 32 Ko instr.

12 X 32 Ko data

14 X 32 Ko instr.

14 X 32 Ko data

14 X 32 Ko instr.

14 X 32 Ko data

28 X 32 Ko instr.

28 X 32 Ko data

Cache size L2
12 X 256 Ko
14 X 256 Ko
14 X 256 Ko
28 X 1 Mo
Cache size LLC
30 Mo
35 Mo
35 Mo
38.5 Mo
Nb of memory channels
4
4
4
6
Memory by node

1053 X 64 Go

1053 X 128 Go

64 Go
256 Go
3 To
Memory ref.
DDR4-2133P-R
DDR4-2400T-R
DDR4-2400T-R
DDR4-2666V-R
Network attachment
Infiniband FDR 56 Gbit/s
Infiniband FDR 56 Gbit/s
Infiniband FDR 56 Gbit/s
Infiniband FDR 56 Gbit/s
Type of GPU
Nvidia Tesla P100 PCIe 12Go
Nvidia Tesla P100 PCIe 12Go
Nb GPU by node
1
2
Nb total cores
50544
35280
112
224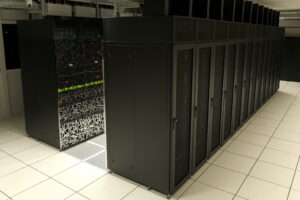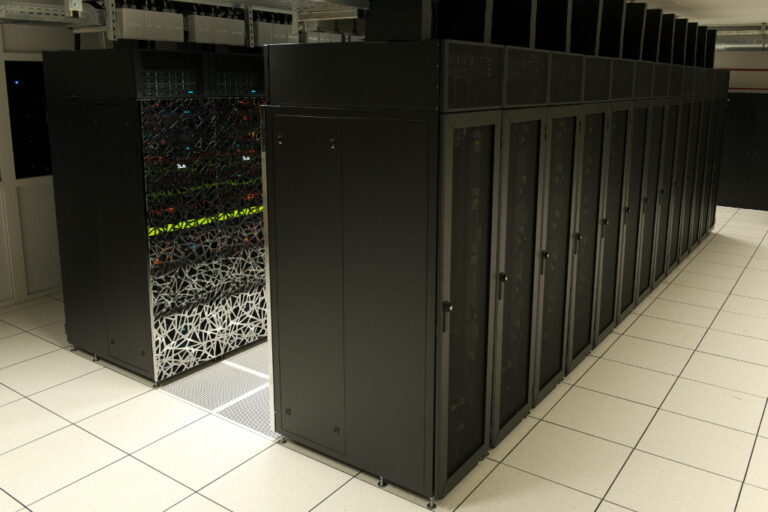 The machine Bull " Occigen " at CINES
The computings racks are connected to five racks mounted on a Lustre shared filesystem with a total capacity of 5 PB useful.
Cooling is provided by a high efficiency warm water system directly in the nodes (mode DLC Direct Liquid Cooling).
The request for allocation of computing hours on this cluster is the subject of two campaigns per year(autumn and spring) through the DARI procedure.
Architecture of Occigen
Description
The machine is cut into a rack. A rack includes :
A power supply unit for power supplies
A block containing the redundant distribution services of the internal warm water circuit.
5 chassis. Each chassis is composed of 9 computing blades. These blades contain 2 nodes.
The processors of the connection nodes are Intel 12-Cores E5-2690 V3.
In total, the Occigen cluster consists of 3367computenodes and therefore has 86048cores.
The network used to connect the nodes to each other is an Infiniband network (IB 4x FDR). The topology of the network is in the form of a Fat tree pruned. The network is non blocking within the chassis. Each group of 18 nodes that share the same switch in a chassis can be reached without restrictions. The "ascending" links from a switch chassis to the higher-order switches are divided by two. For 18 nodes, only 9 uplinks are used.
There are two types of filesystems :
The /scratch (used to store the results of the calculations is of the Lustretype. It has more than 5 PB of usable space and a maximum bandwidth that exceeds 105 GB/s.
The /home is a Panasas type, it is used to store the codes to be executed, it has a surface area of 260 TB and a bandwidth of 10 GB/s.
To store the results more securely, each node of the machine accesses the /store file system. This is also a Lustre filesystem, but with advanced security mechanisms (duplicate storage and tape storage).It must be used to ensure that the results are properly stored.